Last year, SoSCC has commissioned Reaction Yield, an innovative work about synthetic organic and medicinal chemistry to be composed and performed by Third Coast Percussion in association with the exciting Ear Taxi New Music Festival in Chicago from October 5-10, 2016. Reaction Yield draws the analogy between the creation of a new composition of music from motif building blocks of tones, aural colors, rhythms, dynamics, and tempi with the process of creating a new composition of matter using a chemical catalog of molecules and a synthetic strategy.
This was the very first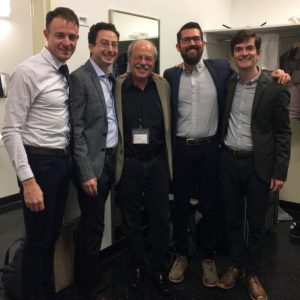 collaborative composition by TCP performers David Skidmore, Rob Dillon, Sean Connors, and Peter Martin; while each had composed before, they had never collaboratively composed a piece.  This was indeed part of the commission – working together from common building blocks to jointly create a new composition. Please check out the workshopping video in June 2016 with Glenn preparing videos and stills of the four TCP composers  hard at work (and play!). More information will soon be posted.
Even more importantly, you can now read and see more about this premiere, which took place on Saturday evening, October 8, 2016 in the Harris Theatre in Chicago. The performance of Reaction Yield by Third Coast Percussion was acclaimed as a highlight of the Ear Taxi New Music Festival !
One excerpt was entitled: "Weekend Ear Taxi Festival events include several winning premieres", Chicago Tribune, October 9, 2016, By John von Rhein. (Chicago Tribune review):
"The marvelous Third Coast Percussion foursome began its segment with the world premiere of a jointly composed piece, "Reaction Yield," inspired by modern science and deriving its haunting power from intricate rhythmic ostinatos that draw on a kaleidoscopic array of shifting percussion colors."
An even more exciting review was entitled: "Third Coast Percussion provides an Ear Taxi highlight with jointly composed premiere", Chicago Classical Review, Sun Oct 09, 2016 at 2:30 pm, by Tim Sawyier. Chicago Classical Music Review.
"Day four of Chicago's inaugural Ear Taxi Festival came to a close Saturday night on the main stage of the Harris Theater with a program sponsored by the University of Chicago. After a New Music marathon at Preston Bradley Hall and performances at the Harris' Cube Space earlier in the day, the evening showcase sustained the momentum of Ear Taxi's unprecedented presentation of new and recent works with a program that included three world premieres, a Chicago premiere, and two works for berimbau sextet.
The program opened with Third Coast Percussion giving the world premiere of its own Reaction Yield. While all four TCP members—Sean Connors, Robert Dillon, Peter Martin, and David Skidmore—compose their own music, this is the first work they have written together collaboratively. Commissioned by the Glenn D. Prestwich and the Sounds of Science Commissioning Club, which subsidizes pieces that fuse music and science, Reaction Yield was far and away the evening's highlight.
While the work is divided into four connected movements, Dillon in his prefatory remarks was emphatic that no member was solely responsible for any one segment. A delicate pulsing suffuses and unifies the whole work, while the individual sections are discernible by changes in instrumentation. Particularly memorable was an interlude calling for four triangles of different pitches combined with glockenspiels, which generated an ethereal rhythmic tintinnabulation. Three members also performed on amplified kalimbas (thumb harps) for an extended period creating a hypnotic, meditative atmosphere. One hopes that this will be the first of many collaborative compositions from Third Coast."
The article includes a photograph entitled: Third Coast Percussion gave the world premiere of "Reaction Yield" Saturday night at the Ear Taxi Festival. Photo: Nicholas Yasillo.
The performance was recorded for broadcast on WFMT and the European Broadcasting group. You may listen to the premiere in the link below!